Boston Bruins '10-11 Season Preview
Back to the Drawing Board....
In the 09-10 NHL playoffs, the Boston Bruins suffered one of the worst collapses in the history of sports, let alone professional hockey. With a 3-0 lead in the 2nd round, the Bruins lost four consecutive games to bow out to the Philadelphia Flyers. While this may sting for Bruins fans, the Flyers would eventually go on to the Finals and lose. In a new season every team has a chance and there are many positives that can be taken from the past year. For the 10-11 hockey season, the Bruins are going to have to find ways to score more often and they will need to overcome such a crushing playoff defeat. If they do, expect the Bruins to be back in the playoff mix.
The newest additions to the Boston Bruins: Tyler Seguin and Nathan Horton

The Bruins finished dead last in goals for in the 09-10 season. To help improve this ugly statistic, Chiarelli added gritty winger Nathan Horton, who finally gets a chance to play in a real hockey market. However, the B's real depth is at the center position, where they boast the likes of Savard, Bergeron, Krejci and their star 2nd overall pick Tyler Seguin. Seguin is still a rookie however and may not see significant ice time, depending on whether or not Marc Savard waives his NTC. Down the roster wingers like Ryder, Lucic, Wheeler, Sturm and once again Mark Recchi should provide enough secondary scoring for such a strong defensive team.
Only the Devils allowed fewer goals than the Bruins last year, so it is no surprise that the defense will once again be led by big Zdeno Chara. Eating up the rest of the minutes will be Seidenberg, Hunwick, Ference, Stuart and Boychuk to make a strong mobile group capable of competing with most teams in the East.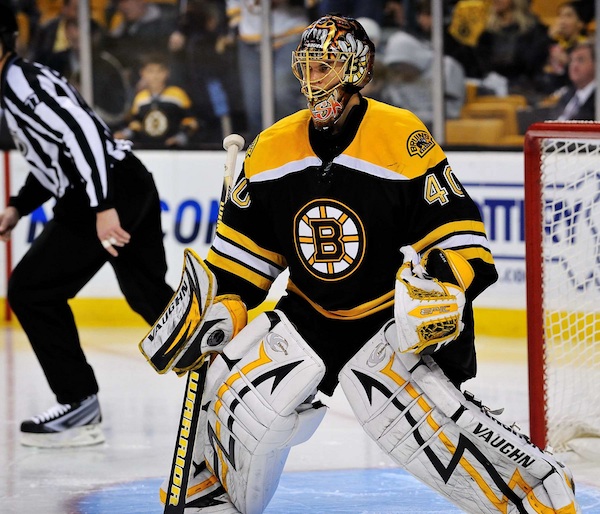 Look away Leaf fans, 23-year-old Rask lead the league with a shimmering 1.97 GAA and .931 SV% in 45 games
Just like last year, Boston's greatest strength lies in the goaltending department as the B's have the luxury of starting the season with 2 legitimate starters. With his stellar play down the stretch, Tukka Rask all but ran former Vezina winner Timmy Thomas out of Boston last year. Will Thomas be dealt? If not, it should be interesting to see whether this duo share playing time or young Rask continues the trend.
*Roster:
Sturm-Krejci-Horton
Wheeler-Bergeron-Recchi
Seguin-Savard-Ryder
Lucic-Thornton-Paille
Campbell
Chara-Seidenberg
Hunwick-Ference
Stuart-Boychuk
Tukka Rask
Tim Thomas
*Due to change as Boston is currently 3+ million over salary cap
---